Installing Artificial Turf on Concrete
A rising number of homeowners are becoming aware of how lush and realistic synthetic grass now appears and feels. Turf technology has advanced significantly over the years, resulting in a growing interest in using artificial grass in landscaping design. Most homeowners who choose artificial grass do so because they want a lush, inviting lawn that is always green without hours of mowing, watering, weeding, edging, fertilizing, and aerating, or because they want a lush, inviting lawn that is always green without hours of mowing, watering, weeding, edging, fertilizing, and aerating.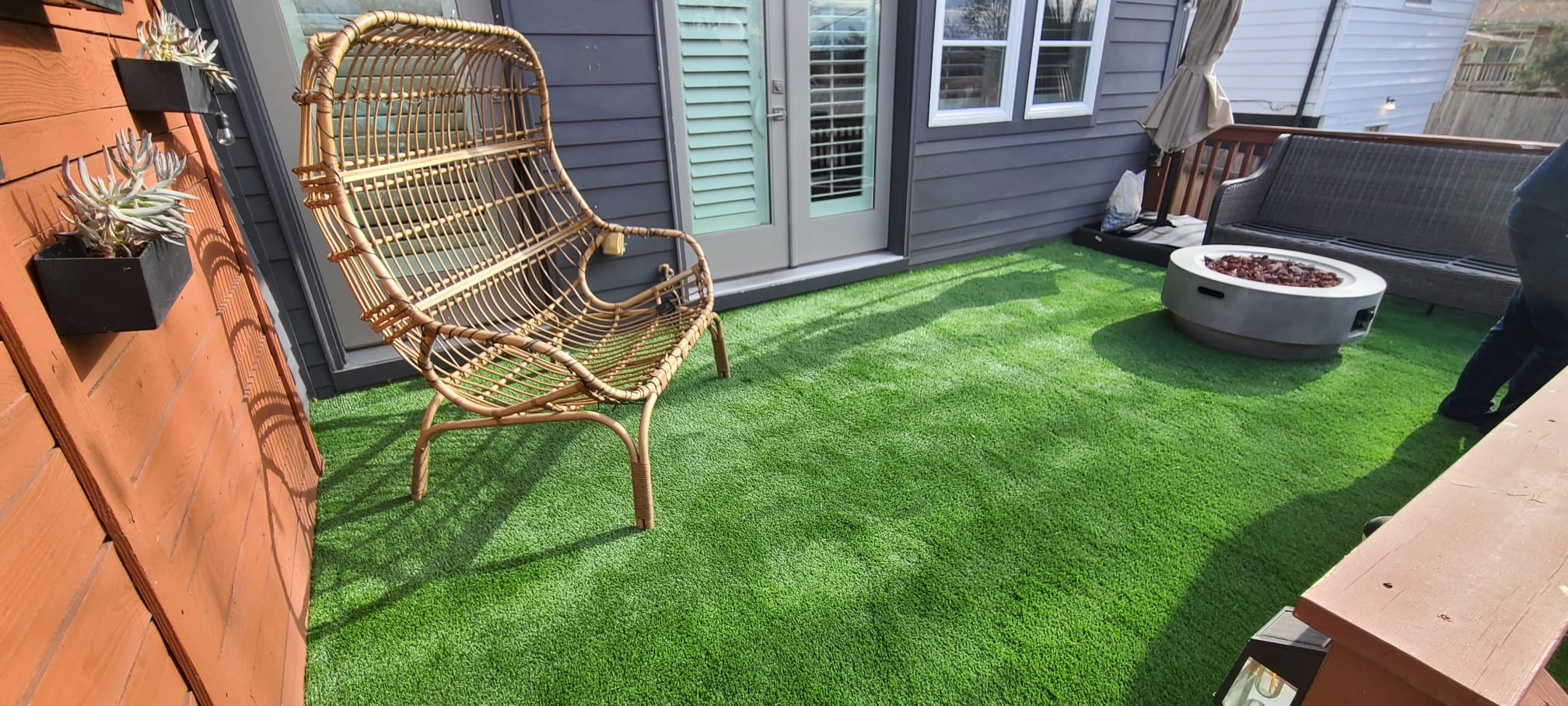 Can You Install Artificial Turf on Concrete?
When landscaping is built or erected to replace a natural grass lawn, it is typical to see artificial lawns installed instead of real grass. Installers can prepare the foundation in this scenario to guarantee appropriate drainage and a cushiony and comfy surface for visitors and pets to use.
Sometimes the area where you want to install artificial turf is a concrete area. Can it be done? The short answer is yes, synthetic grass can be laid on top of asphalt or concrete. There are no numerous layers of base to prepare before laying down the grass. Let's take a look at a few things to think about before you start installing your artificial turf over that unsightly concrete patio.
Problems with Installing Artificial Turf on Concrete
To begin with, the most typical issue with placing synthetic grass on concrete is a lack of drainage. Synthetic lawns drain at roughly the same pace (or better) than natural grass when laid on a properly prepared base. When put on concrete, this is not the case.
Rain, melting snow, or surrounding irrigation systems will not be able to drain into the grass's base, and water will collect between your concrete and the grass's supporting material. If left uncontrolled, this might lead to mold or mildew concerns under your lawn, which could seep through the backing. It may also result in standing water and huge puddles on your lawn, making it useless until the water drains or is cleared.
Some people recommend putting a layer of sand between the concrete and the turf to help with drainage; however, because the sand is lying on top of a smooth, solid surface, it will simply wash away over time.
The firm surface of artificial grass installed on concrete does not give the cushiony feel of genuine grass or the softer landing that children and pets enjoy while running and playing on natural grass. This may not be an issue if you do not want to use your lawn for physical activities; but, if you have children, dogs, grandkids, or any other intentions to use the grass yourself, you must consider this.
Tips for Installing Artificial Turf Over Concrete
If removing your concrete is not in your project budget, or if you just want to preserve the solid surface under your grass for a faster, easier installation, chat to your installer about what you can do to get your turf to work correctly for your intended usage.
For example, to promote drainage and air circulation, your installer may suggest putting drainage tiles between the pavement and the grass. Your installer may also suggest adding a layer of padding to soften the surface or using a thicker grass product for more cushioning. If weeds are sprouting through gaps in your concrete, the installer will most likely recommend laying down a layer of landscaping cloth to keep them at bay.
Advantages of Artificial Turf on Concrete
Installing fake grass over concrete can enhance the surface. A concrete pool deck might be slippery, but synthetic grass can create a more appealing surface. Installing an artificial lawn with adequate cushioning on top of a solid surface will make the space much more enjoyable for your children.
High-traffic areas, such as children's play areas, are ideal locations for adding fake grass. Turf works well on indoor surfaces, especially in gyms and other athletic facilities. Artificial grass is more pleasant than carpeted floors and less taxing on the joints.
Find out more about installing artificial turf on concrete or how to care for turf on hard surfaces at Turf Pros Solution. Contact us at Turf Pros Solutions today!