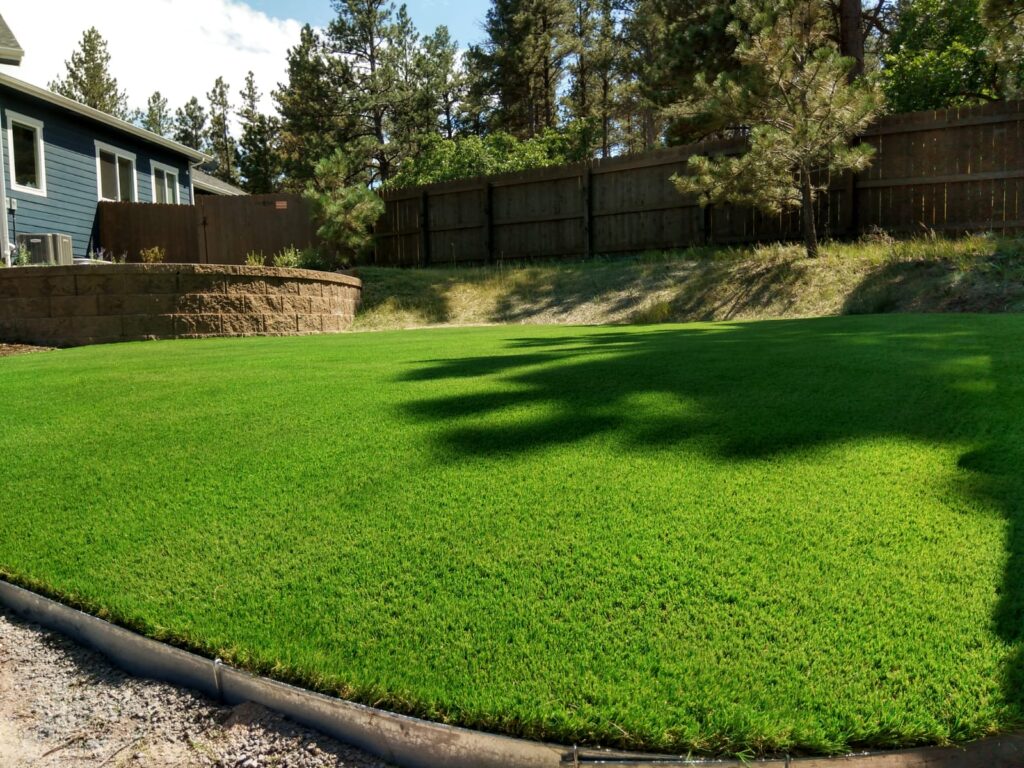 Does Artificial Grass Drain Well?
Does synthetic grass drain well? When determining whether or not to install synthetic turf, this is likely one of the numerous factors to consider. The quick answer is yes, artificial lawns drain well. You also may be shocked to find that our high-quality turf drains even better than natural grass.
One key factor to prevent drain issues is for it to be properly installed. We can offer you the knowledge to install artificial grass properly and care for your new artificial grass, whether you need it for commercial, residential, or sporting purposes. Our combined experience includes serving residences, business locations, golf courses, sporting fields, school playgrounds, and more. Let us assist you in addressing the difficult issues with artificial grass flooding.
Artificial Turf: Drainage Problems?
Those considering transitioning to synthetic grass are frequently concerned about drainage issues. These neatly constructed grasses should not flood under normal weather conditions. That isn't to imply that artificial grass and flooding aren't conceivable.
Flooding can occur in extremely rare circumstances when weather is really severe, but the ensuing damage is far less than with wild grass. Synthetic grass is well-designed and has dependable drainage systems. Artificial grass can pool and form little bits of debris if it rains excessively, but the drainage system will swiftly remove any surplus water. Unlike mud, little debris that seems out of place may be readily hosed off or removed with a rake. Once the synthetic grasses are in place, a small amount of water is beneficial to the fake lawn since it helps to maintain the turf evenly distributed. Even if it does flood, artificial grass has environmental advantages:
Avoiding bothersome street runoff: Natural grass absorbs street runoff when it floods and holds onto it for days after the storm has passed. Minor artificial grass flooding is significantly less of an issue.
No pesticides or fertilizers to worry about: Rainfall on natural grass can generate pools of hazardous chemicals, which can be unsafe for dogs and children who play in the yard.
Easy to keep pollutants out: Animal waste, sewage, and even gas waste can all contain hazardous microorganisms. Because synthetic grass drains effectively and is readily cleaned on the surface, it helps to maintain your environment healthy for everyone.
It's important to remember that improperly installed artificial turf might lead to floods. If the sub-base beneath the lawn is not correctly addressed during installation, problems might arise in the long term. Many grass installers will cover existing drainage soils with new drainage soils, leaving the root of the problem in place. Turf Pros Solution is dedicated to offering high-quality sub-base preparation services, including weed and sod removal, enhanced watering, and the best drainage materials.
The Benefits of Having Artificial Grass
Artificial grass delivers more than simply good drainage when it is engineered with proven longevity. Synthetic grasses may tolerate the formation of potholes for up to 20 years, helping to maintain the general integrity of your lawn. Artificial grass may meet all of your requirements, including:
Spend more time resting and less time mowing your yard.
Outdoor meetings and gatherings that are comfortable.
Greener, healthier grass that is safe for humans, pets, and the environment.
Golfing conditions are ideal.
Sports team practices and playground activities that are safer.
Your outdoor space will have a constant aesthetic look.
Real grass, on the other hand, grows continuously and demands continual attention. Artificial turf does not require weeding, mowing, or fertilizing, all of which can result in a lot of muck and mess if it rains. Weather changes produce uncertainty and, in some situations, dangerous conditions. When rainwater collects, mud and puddles can form, which can last for days. Artificial turf, on the other hand, is more weather resistant and may prevent many of these problems.
Contact us today to learn more about the various advantages of our high-quality synthetic turf and services.